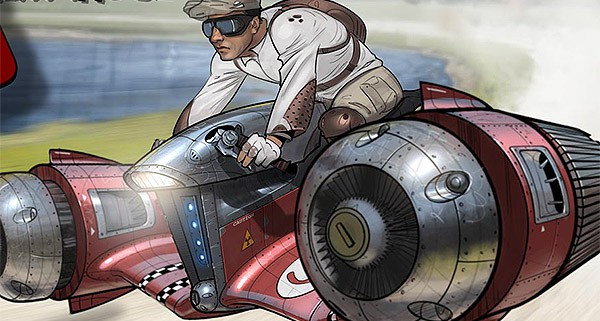 Enlace original:
http://conceptships.blogspot.com
Para inaugurar esta sección de blogs que sigo y que voy a usar para el blogroll de la página de inicio, voy a empezar con un blog de arte y artistas de la aeronáutica futurista o espacial, que se presenta a sí mismo como The biggest collection of spaceship art in the universe, su nombre Concept Ships, y es unos de mis preferidos por la calidad de los ilustradores y el detalle de las ilustraciones.
No sólo hay entradas dedicadas a naves espaciales, en otras ocasiones se muestran trabajos sobre mundos futuristas como las de este artista, Martin Deschambault, con láminas como esta:
Si encima estoy escuchando de fondo Alpha de Vangelis, y no me preguntéis por qué, la inmersión en esos mundos futuristas es completa.
Hace poco dedicaron una entrada al recientemente fallecido Ralph McQuarrie con algunas ilustraciones de su trabajo para StarWars por las que era especialmente conocido:
Así que absolutamente recomendable para los que gustan de las ilustraciones futuristas, pero también para los que disfrutan con el maquetismo, las naves espaciales y los diseños 3D. Por cierto, la imagen que encabeza esta nota es de Matt Tkocz que actualmente es la cabecera animada de Concept Ships.
https://manuel.cillero.es/wp-content/uploads/2012/03/conceptships.jpg
370
600
Manuel Cillero
https://manuel.cillero.es/wp-content/uploads/2016/01/logotipo.png
Manuel Cillero
2012-03-17 10:11:11
2020-01-19 19:41:55
Concept Ships